Managed IT Services - IT Support West Palm Beach
Are you looking for a reliable Managed IT Services Company in West Palm Beach, Palm Beach Gardens, Lake Worth, Jupiter fl, or anywhere else in Palm Beach County, South Florida? If so, we have all the latest technology and expertise to help you find a dependable and affordable IT solution.
Secure networking and computer operations have become more complicated and expensive with growing complexity and expanding user bases. InfoStream handles IT for small and medium-sized businesses and delivers you peace of mind knowing your IT is in good hands. Outdated and problematic technology has a direct negative effect on your business and can cost you even more money in the long run.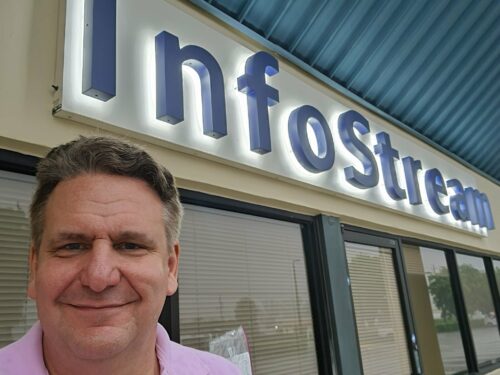 We all understand that it is hard to stay ahead of the curve when you don't provide your employees with a high-quality, functional work environment. Unfortunately, the only other option is to invest tremendous sums of money, time, and effort into training technicians and hiring highly skilled professionals to keep up with the latest trends in technology. However, Professional IT Support in Palm Beach doesn't need to be a tremendous expense!
As the digital world continues to evolve, our need for technology grows. Today, most companies are entirely dependent on their computers to run smoothly and efficiently. With this dependency comes the need for more advanced network security, faster connections, and quality components. But what are your options? Unfortunately, not all IT departments are created equal! For IT Support West Palm Beach, contact us today!
Benefits of Hiring West Palm Beach Managed IT Services Provider
We offer a variety of benefits, including state-of-the-art security and protection against cybersecurity threats. In addition, our managed IT service professionals will work with you to find the best plan and solution to suit your needs and budget. We also provide computer support to deal with any issues quickly and efficiently before they become a bigger problem!
InfoStream is the solution you're looking for. We specialize in concierge IT services that will turn your company into a tech powerhouse without you having to break the bank. With InfoStream, we will handle all your IT needs so that you can focus on what you do best.
Do you need a tech support company that has a focus on customer satisfaction? If so, InfoStream is here to offer top IT support and make your life easier! Our team of IT professionals will assess the needs of your business, make the necessary recommendations, and provide the IT support needed for your business to continue growing without the hassle of technical issues.
InfoStream offers a range of IT solutions, including proactive monitoring, proactive management, backup and disaster recovery, system maintenance, and more. With InfoStream, get customized solutions designed to meet your budget and business needs, plus get unlimited remote support for one low monthly fee.
Managed IT Services are becoming more popular amongst small businesses in particular. These services can be provided by an IT company or an individual. This reduction in headache for small business owners will result in more time to work on their business and less time wasted on technical issues.
This is because Managed IT Services do most or all of the following:
Provide remote monitoring and management
Help with troubleshooting
Provide backup and disaster recovery
Keep cybersecurity threats at bay
Running a business can be challenging and time-consuming. Managed IT Services help to take the worry and stress out of your daily life so you can focus on the critical aspects of growing your business.
Managed IT services bring together all the benefits of an in-house IT staff, security experts, and management consulting in one easy service package.
If you want a trusted advisor to manage your company's most crucial asset, information technology, then choose InfoStream for all your IT needs. Do you have any tech issues? Do you want a proactive tech company to give you peace of mind? Then, call InfoStream for an expert consultation on your technology and information system needs. For IT Support West Palm Beach, contact us today!
The Onboarding Process
All this might sound great initially, but the attention of many businesses quickly switches to the onboarding process. Does it come with lots of stress? To answer both questions, it works simply and you don't need to worry about much at all.
The first thing to note is that we have been through the process many times in the past, so we know the best transition techniques. Whether you're switching from your own systems or a third-party system to us, we'll guide you through the process.
Step 1 - After deciding the services that we will provide for you, we'll create a transition strategy. Therefore, you'll see how the process will work from start to finish before anything happens. During this stage, you can ask any questions you might have about the onboarding process.
Step 2 - During this second stage, we obtain as much information as possible while also determining the roles of each party. We want to ensure that all parties understand their roles before the transition.
Step 3 - Depending on the extent of your current IT system and the various third parties that you use, we may need to take responsibility for services using a phased approach rather than doing everything at once. Not only do we want to make sure that we're managing each aspect of the strategy carefully, but we also want to limit the impact on your business; the last thing we want is to cause disruption during this delicate period.
Step 4 - Eventually, we will become responsible as per the agreement, and the SLA (service-level agreement) will apply. As we reach the service start date, we will provide the agreed services and you can smile in the knowledge that you're in great hands.
Thankfully, you don't need to worry about much because we will guide you through the process. If you want to learn more, don't be afraid to pick up the phone and dial 561-968-0046 to get started, for IT Support West Palm Beach, call us today!.
Reasons to Outsource your IT
In recent years, you may have noticed that the number of managed IT service providers has increased exponentially. What's more, the IT solutions offered by each company are also expanding. But why should you consider any form of outsourcing in this area? In our experience, there are three types of companies that benefit from managed IT services.
Company 1
Firstly, we help small companies without the budget to hire IT specialists. With only a handful of staff members, they don't have the resources to expand an IT department. Alternatively, it could be that they have an IT system but have too many tickets and systems to manage alone. Therefore, they will outsource to 'IT services near me' to relieve some of the pressure.
By outsourcing, both types of companies can reduce their workload without all the cost and stress that comes with hiring. Just imagine going through the recruitment process - this is enough to get anybody panicking. You don't need to advertise a vacancy, interview people, or go through the extensive onboarding process. Instead, choose InfoStream and scale the services as and when you need.
Company 2
The second type of company that finds outsourcing IT useful is those that have an IT department that is being stretched too thinly. While they were managing at first, they now have too much to do with troubleshooting, end-user support, updates, technology changes, and more. They are so bogged down in the day-to-day tasks that they can't pay attention to the bigger strategic picture.
When this company outsources, they find that they suddenly have lots more time to dedicate to long-term strategies.
Company 3
Finally, we also come across businesses that handle the day-to-day operations comfortably. However, they like to outsource to specialists for more difficult tasks and projects. For example, you might contact InfoStream for migrations, compliance, or even when you plan to upgrade the whole infrastructure within the business. Look for IT services near me because they can assist with this even if you want to continue managing day-to-day tasks yourself.
Hopefully, reading through these different types of companies has helped you to realize that you don't need to lose control of any part of your business that you want to do yourself. While some business owners request help desk support, others need infrastructure upgrades. When you contact InfoStream, together we will build a package that suits you.
Contact Us for Managed IT Services West Palm Beach, FL
Call InfoStream at 561-968-0046 or contact us online for a free consultation to learn about our products, services, and how we can help.
If you need top-notch IT services in West Palm Beach, call InfoStream today!
Tried and true computer network maintenance and IT management services for businesses throughout West Palm Beach, Palm Beach County, and Palm Beach Gardens
Have you just about had enough of worrying about your business technology? Failures in IT Support Services in today's business environment can cause your business to fall behind the competition.
With managed IT services from InfoStream, you can end the cycle of broken technology with proactive management, monitoring, and IT support of all your technology in Palm Beach County, Palm Beach Gardens, Lake Worth and Jupiter fl.
Worry-Free Network Services Care from InfoStream lets you:
Rest easy - knowing your data and network are safe and protected on our watch.
Perform at your best - with 24x7 IT support that keeps your business purring
Decrease costly downtime - dependable IT support yields higher productivity
Simplify your budget - with the convenience of our IT flat- rate plan.
Contact us to get started    |    LEARN MORE & GET PRICING
Get Tailored and Cost-Effective IT Solutions
InfoStream is dedicated to finding the most cost-effective technology solution for the exact needs of your business. If your business requires network integration services, network consulting, on-site support, IT management services, application services, cloud platform services, computer network installation, IT support, wireless networking, computer network maintenance services, or server and network and security support, you can trust us to the end.
Working with InfoStream will allow you to focus on what you do best, while we keep your network and computers running smoothly! We are your trusted partner in providing the best computer network maintenance available for today's evolving business environment. For IT in Jupiter Florida and surrounding areas, Contact us today!
Our highly responsive IT support and computer network maintenance ensure potential problems are identified and remediated before they become major issues.