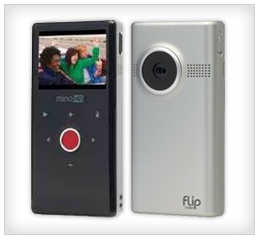 We're not just having a contest… we are having TWO contests!  You have two ways to win a Flip High Definition Video Camera: (1) Be one of the first two people to refer us a new client or (2) whoever can get the most people to sign up for our Free newsletter.  See details below.
Only one camera per winner… we want to give as many people a chance to win as possible.  Honestly, this may not be as hard to win as you might think.  We are famously selective in our clientele (if you're reading this, we mean you!) and I'm betting not a lot of people will enter so you really have a great shot to win!
First of all, these HD Video Cameras are SWEET!  They are made by Cisco which means they are the Rolls Royce of technology.  They are so TINY and yet holds 2 hours of stunning HD video.  Awesome case… anti-glare color display… $229 MSRP… very cool!
Here are the details:  The contest runs from now until December 31, 2010.  For the referrals contest, ask friends and colleagues to sign up for our free newsletter at InfoStream.cc.  Subscribers need to be from the Palm Beach County area and anyone trying to be sneaky and sign up a bunch of random people will, of course, be disqualified.  You have to ask them to sign up and not sign up for them.  Most importantly, you will need to send us their name and e-mail so that we can give you credit when they subscribe!  The top referrer gets a Flip HD!
As for the new client referral, they are officially considered a "new client" after two paid visits.  The deadline for referring is December 31 however, we may allow up until January 31 for them to officially become a new client.  The client will need to call us and you will need to e-mail, or call us, so we can give you proper credit!  The first two people to refer us a new client will get a Flip HD!
Keep in mind that even if you don't win… we ALWAYS are very appreciative for new clients that are vouched for by people we know and trust and we ALWAYS give some kind of reward or gift, not just during this contest.
So… your odds are fantastic… the prize is awesome… if you have any questions, give me a call!
Alan