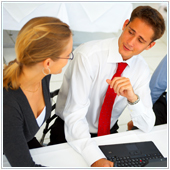 Making your business work to the best of its abilities requires many factors to combine in order to create a well-oiled, efficient machine. You can have a large, loyal client base, the best staff and the best knowledge in the industry but in the modern world, if you don't have the latest computer network and system security you'll never reach the highest standard you can as a business. And it's not just a case of buying the latest version of any old program; you need to identify exactly what you need from your software, and how it will benefit your company specifically so that you can make the most of it. For example, if you're a company providing an education service, you won't want to be focusing on programming software, and by the same token you'll probably need a different security program for your network. But getting your company to its highest standard shouldn't be a chore, and that's why InfoStream are providing their IT professional services to the businesses of West Palm Beach and Jupiter.
They're offering free consultations with one of their technology professionals, who'll determine your business needs, and they'll create an individually tailored network and software plan for your company. No matter what your specialization, be it architecture and engineering, finance and accounting, legal matters, education, manufacturing, real estate, construction, charitable causes or professional services, InfoStream's highly-skilled and qualified staff are able to make your technology solution really work for you. They've great experience and knowledge of the tech industry and its latest developments, and have worked alongside some of the best companies in the sector, boasting business partnerships with the likes of Microsoft, Dell, Cisco, GFI and Trend.
InfoStream offer a wide variety of business and computer networking services, including auditing, system and network care and recovery, PC, laptop, smartphone and other hardware repairs, IT department outsourcing (which can save you a lot of time and money), a Cloud network and storage (to keep your valuable data and information safe from fires, hurricanes, burglars and other unexpected incidents) and they can also make your business 100% PCI-compliant, for your customers' peace of mind.
By calling InfoStream on (561) 968-0046, you can talk to an adviser to book your free IT consultation and you can request technical assistance and advice over the phone, too. If you visit their website at www.infostream.cc, you can book a free Critical Health Checklist or a free Full Network Audit & Security Scan, which will give you a good overview on how you can improve the computer system used by your business. You can also sign up for a free email newsletter, which will bring all the latest news and developments in the technology industry straight to your inbox, so you can stay well-informed with ease.