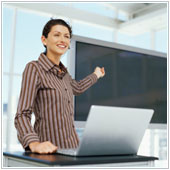 The technology industry is one of the most fast-paced in the world, and it can take a lot of time and effort just trying to keep up. That's not to mention how difficult it can be to know where to start once you've fallen behind. Even if your business doesn't specialize in technology, it still has to use it in order to reach your customers, and your customers will be expecting nothing less than the latest systems and technologies when they choose your company. So, naturally, your staff need to know the ins and outs of the industry as well as its latest developments. That's where InfoStream comes in. InfoStream can provide you and your staff with training and can help to educate your IT department in all of the biggest and most important aspects of modern technology, as well as training them to use specific programs as part of their IT Consulting service in West Palm Beach.
InfoStream are expert providers of IT advice in Palm Beach, and can provide you with talented, professional and experienced consultants to help your business and staff learn to keep up with the fast-paced developments of the technology industry. In addition to providing helpful advice and training, InfoStream can scan and inspect computer networks and ensure the security of your business with a personalized IT solution, tailored to your company. InfoStream are a trustworthy, capable and reliable company, boasting a number of business partnerships with some of the most well-known IT companies, such as: Cisco, Dell, GFI, Microsoft and Trend. They have the knowledge and expertise capable of allowing them to work with the leaders in the technology industry.
It's easy to train your staff to use the latest technologies and it's easy to teach them how to stay up-to-date with InfoStream. It's crucial to businesses in every industry, whether they deal with technology or not, to know how to get the most out of computer security and the computer programs that are so vital to running the business. InfoStream can come up with IT solutions for businesses within a wide range of sectors, including the following: accounting & financial, architectural & engineering, legal, manufacturing, not-for-profit & charitable, real estate, educational, construction, and professional.
InfoStream don't just deal with the digital side of computers and technology, they also carry out PC repairs, network care & maintenance, system & network recovery, and can make your business PCI compliant. If you're in need of Cloud storage, they have that too, which will protect your company's data from unexpected events and threats.
Computer networks in Lake Worth and Palm Beach have never been safer! For a free assessment with one of InfoStream's technology professionals, call (561) 968-0046 or to request a free Full Network Audit & Security Scan or free Critical Health Checklist for your company's computer and online systems, fill in the form found at www.infostream.cc. Alternatively you can call them directly on the number above. A free email newsletter is also available on the website.