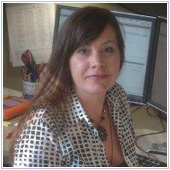 We've been absolutely inundated and our engineers have been stretched every which way, coping with demand while still striving to provide the very best of service and results. Changes are coming for 2014 and we are adding to our staff! We want to shorten our response times and give more value at every turn and this is a major step toward reaching even higher goals!
We've been searching far and wide for another great engineer to enable us to respond even quicker to you all, and we have finally found her – let us introduce Molly Hoard who is joining us on January 13th. It hasn't been easy to find the very special skill set we demand before being considered to join the team and Molly has just blown us away! Molly will be starting in early January.
Molly offers 13 years of technology experience. From phones and tablets to servers and workstations, she has the skills to accomplish the job at hand. She started her IT career as a self-taught programmer and database administrator. She earned her Unix System Administrator certification after realizing the need for such a position at her firm. She continued to add to her skillset as she discovered what she loved to do-working with customers in the field. She has supported environments from a 4 person shop to enterprises of 200+ users.
Adept at getting to the root of a problem, she quickly finds a solution. Microsoft Small Business Server, Exchange, SonicWall and Backup Exec are just a few of the skills she brings to our team. She enjoys sharing her knowledge and training users, from top level executives to the most timid end user. On an individual level or a group setting, she can lead users to become comfortable and well-informed in almost any technology.
Molly was born in Chicago, raised in Cleveland, Ohio and has resided it Atlanta for the last 15 years. An adventurous type, she enjoys caving and skydiving. A philanthropist who donates time at local community food banks, as well as feeding and clothing the homeless on the streets on Atlanta. She looks forward to giving in her new community.
"I am very excited to be joining such a talented and loyal team. I look forward to new challenges, accomplishments and providing top notch service to InfoStream's clients."
- Molly Hoard, CSSA
Please feel free to reach out, welcome her, introduce yourself or ask her any questions at [email protected]!