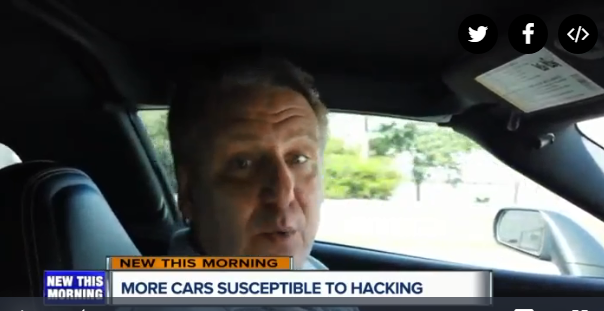 We have all heard about home and business devices being hacked, but did you ever think that your car could be hacked too? With increasingly advanced technology in our cars, there is inevitably more vulnerability.
Alan Crowetz, WPTVs internet and security expert, took us on a drive in his fully equipped car and somewhat ironically, he warned just how easy it would be for the technology to be hacked.
Demonstrating the Alexa Auto device in his car, he raised the issue of the kind of vulnerability to which he is exposed.
People are pushing for self-driving cars, but Alan warns us that many of the things we already have, such as LoJack, maps or even satellite radio, can be vulnerable to hackers.
He went on to say that with this type of technology, there is a risk and hackers love nothing more than to find the vulnerabilities. If they can control your system, maybe they could tweak your gas mileage down to nothing, or maybe they can track where you have come from and where you are going. There could also be safety concerns: they could make the car brake suddenly and deploy the airbag.
I think it's an invasion of privacy, said Wayne Bernard who says he's a little bit old school: maybe someone could eavesdrop in on my conversation, so I chose a car with none of the bells and whistles. He is very wary of new technology.
He feels that the more we incorporate technology into every day stuff, the more it creates an opportunity for hackers.
However, be warned. Experts like Crowetz, say that we might still not be safe, even if we think our technology is stuck in the past.
He says most people don't realize that they already have a ton of technology built into their cars. Almost every car on the road has a little data point hidden under the dashboard and below that is a computer, said Crowetz.
So what do you do?
When you are looking to buy a car, Alan suggests you should really find out how connected the car is. Also ask if there has been any history of people hacking this car?
Alan Crowetz can be contacted for more information at https://www.infostream.cc/